Before the second lockdown round here in Bavaria which officially started about one week ago, I decided to grab a probably last chance – at least for the next couple of weeks or months – to visit one of my favorite Museums here in Munich, the Haus der Kunst. 
Until February 14th 2021, Haus der Kunst is hosting an exhibition titled 𝘔𝘪𝘤𝘩𝘢𝘦𝘭 𝘈𝘳𝘮𝘪𝘵𝘢𝘨𝘦. 𝘗𝘢𝘳𝘢𝘥𝘪𝘴𝘦 𝘌𝘥𝘪𝘤𝘵.
I believe it's safe to say that most of the European museum-goers, including me, have no clue who Michael Armitage is, or at least didn't before going to the exhibition at Haus der Kunst. 𝘗𝘢𝘳𝘢𝘥𝘪𝘴𝘦 𝘌𝘥𝘪𝘤𝘵 is the first-ever exhibition of Michael Armitage's works in Germany and one of the first big-scale solo exhibitions of Michael Armitage in Europe in the first place. Interestingly, from October 2011 until June 2018, the Haus der Kunst was directed by Nigerian curator and art critic Okwui Enwezor, who contributed greatly to bringing contemporary African art in European museums before dying in March 2019. 
So, who's Michael Armitage?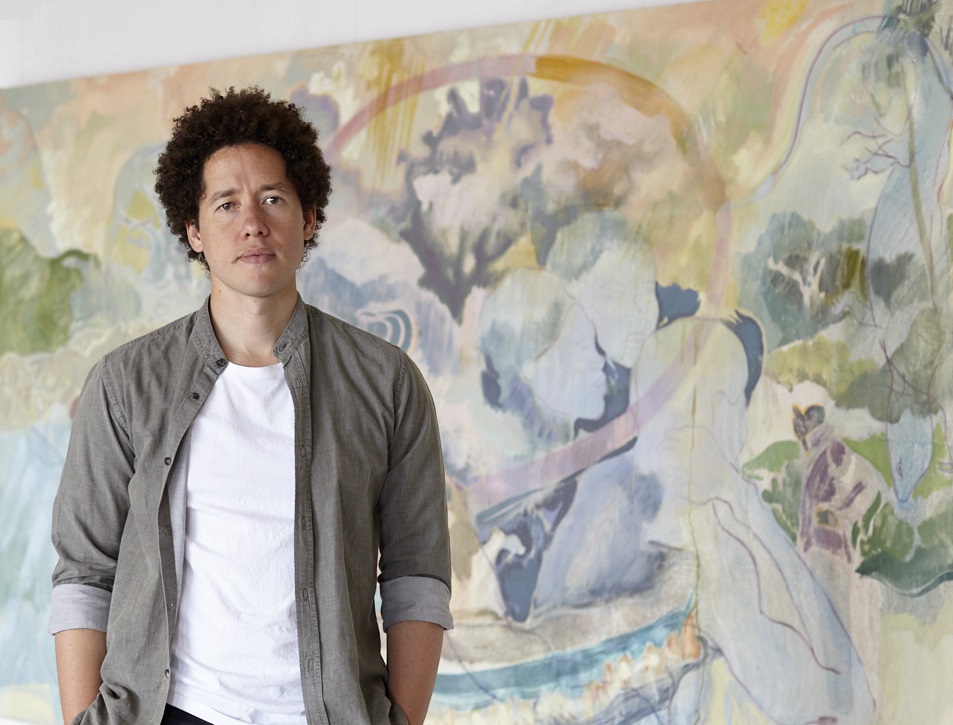 Michael Armitage was born in 1984 in Nairobi (Kenya) to a Kikuyu mother and a Yorkshireman father. The Kikuyus are the largest ethnic group of Kenya and are native speakers of Bantu. On the Haus der Kunst website, Armitage is described as British-Kenyan. When I entered the exhibition and started discovering his work, I wondered if that is how he would define himself. British-Kenyan? Or rather Kenyan-British? Word order can make quite a difference. Or would he rather describe himself as living in the constant search after his own identity? How important is it for other people to know where we come from, if they are to fully understand us? And a whole lot of other questions immediately started crossing my mind. To me, that is when you know something is a piece of art: that is, when that something takes hold of you, forcing you to ask yourself questions which you have been asking yourself for a lifetime and didn't find the proper wording for. And all of a sudden these questions materialize in the form of artwork. Art museums really are places filled with question marks hanging on their walls.
In an interview published in march 2020 on the website of his alma mater, the Royal Academy of Arts, Armitage says: "the fundamentals of who I am come from this place, from Kenya – and a large part of me is also English". Armitage went to boarding school in England and received training as an artist at London's Slade School of Fine Art and the Royal Academy of Arts. He has one studio in London and one in the garden of his family's home in the periphery of Nairobi.
To me, one of the most dazzling features of his work is his masterful use of oil paint on lubugo cloth instead of conventional canvas. What is lubugo cloth? I had no idea such a thing existed before going to see Armitage's exhibition. Lubugo is a cloth-like material traditionally extracted in Uganda from the bark of mulberry trees. Several cultures across the world have been manufacturing bark cloth over centuries if not millennia, probably because of its high versatility. Nowadays, the making Ugandan bark cloth has even been recognized by UNESCO as a world heritage practice. The cloth itself has become a commodified good sought after by international tourists in East Africa. You can even order your bark cloth online, if you feel like. Just try and google it.
As Armitage himself explains in the interview I mentioned earlier, he stumbled upon the lubugo cloth at a tourist market in Nairobi. The cloth is treated before being painted and has quite different properties to conventional canvas. While looking at the paintings, I noticed that the bark cloth has a very irregular surface, with holes, seams and cracks which become themselves part of the painting. The fact that the bark cloth has become such a commodified, touristy good also plays a key role in the interpretation of Armitage's paintings, casting an ironic and critical gaze on the reception of African voices in art. By using lubugo cloth, whose irregularities only become visible when coming closer to the painting, Armitage questions the patronizing view of African art prevailing amongst the western public. As Armitage said in a 2019 interview with the Sydney Morning Herald, "At art school I wanted to talk about the way things were made in east Africa, but the words that were used [to describe art from the continent] were 'naive' or 'primitive', terms that made my skin crawl".
This immediately reminded me of Yinka Shonibare's 2014 installation "The British Library", which I wrote about in my very first post on Arts wide open on Instagram. In many of his works, Shonibare employs so-called African fabric, which is actually a Holland-made product extensively merchandised in many African countries during the 20th Century and nowadays perceived by Westerners as typically African – whatever that means.

Armitage's work undoubtedly focuses on Africa and above all on Kenya. It is everywhere, in every inch of his paintings.
The paintings themselves are quite big in size and ravishing in the choice of color. To me, echos to Gauguin, Matisse and Michelangelo were very eye-striking.
Armitage's paintings have a corporeal and at the same time visionary quality. Dynamic, almost violent human bodies are intertwined with dreamy landscapes. The bodies seem caged in their own dreamy reality, where East-African myths interact with references to Greek mythology and Christianity.

Armitage's 𝘒𝘦𝘯𝘺𝘢𝘯 𝘙𝘢𝘭𝘭𝘺 𝘚𝘦𝘳𝘪𝘦𝘴, created between 2017 and 2019, deals with the public outcry in the context of the 2017 presidential elections in Kenya. Armitage himself participated in some of the demonstrations in Nairobi in 2017. He documented this experience with photographs which served as studies for the 𝘒𝘦𝘯𝘺𝘢𝘯 𝘙𝘢𝘭𝘭𝘺 𝘚𝘦𝘳𝘪𝘦𝘴 of which the 2019 paintings 𝘛𝘩𝘦 𝘗𝘳𝘰𝘮𝘪𝘴𝘦𝘥 𝘓𝘢𝘯𝘥 and 𝘛𝘩𝘦 𝘊𝘩𝘪𝘤𝘬𝘦𝘯 𝘛𝘩𝘪𝘦𝘧 most impressed me with their capacity to go beyond politics, addressing universal subjects as the need for freedom, sexuality, love and religion.

I hope you enjoy discovering Armitage as much as I did!